Fast5 Draw Pits Defending Champions Wasps Against Severn Stars
---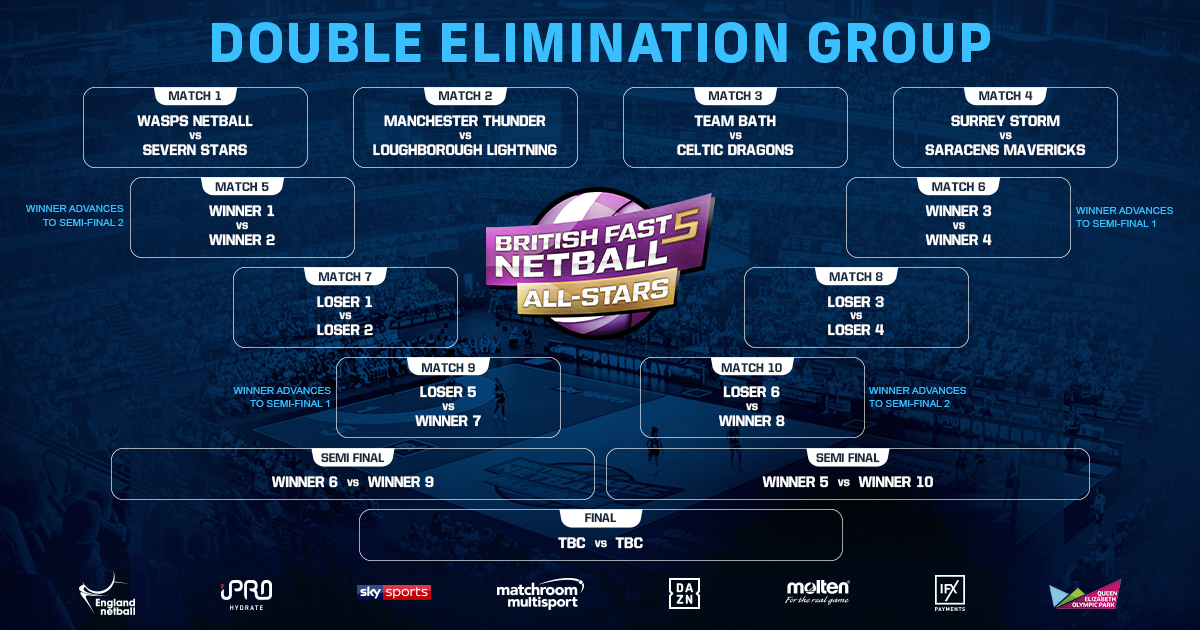 Wasps Netball will begin their British Fast5 Netball All-Stars Championship title defence against Severn Stars at the sold-out Copper Box Arena, London on Saturday, live on Sky Sports and DAZN.
The tournament begins with a double-elimination group stage, fixtures for which were drawn live on the Sky Sports YouTube channel earlier today. The other matches drawn see Surrey Storm take on Saracens Mavericks, while 2017 Fast5 Champions Loughborough Lightning face Superleague champions Manchester Thunder. Team Bath will be up against Fast5 debutants Celtic Dragons.
Two wins during the double-elimination group stage will see a side through to the semi-finals, while two defeats sends them home. Teams who win one and lose one of their opening fixtures face off for a place in the last four.
Featuring 12-minute matches, an all-star 5-point line and a Golden Buzzer Power Play, the British Fast5 Netball All-Stars Championship is an all-action afternoon of non-stop, pulsating netball.
Teams can include up to two worldwide All-Stars players in their Fast5 squads and among the All-Stars set to feature this weekend is England star Jo Harten, who returns to Loughborough Lightning for one day only. Jamaican captain Jhaniele Fowler (Saracens Mavericks), former Australian Fast5 captain Erin Bell (Manchester Thunder) and Leana de Bruin (Severn Stars), who has represented New Zealand over 100 times, are among the other All-Stars set to light up the Copper Box on Saturday.
Defending champions Wasps Netball will be looking to keep hold of the title which Rachel Dunn helped fire them to last year but the seven other teams all have their eye on the £25,000 winner's cheque.
Tickets for Saturday's British Fast5 Netball All-Stars Championship are now sold out. The event will be broadcast live on Sky Sports from 1pm as well as on DAZN and other networks around the world.
FAST5 ALL-STARS GROUP FIXTURES:
Match 1: Wasps Netball vs Severn Stars
Match 2: Manchester Thunder vs Loughborough Lightning
Match 3: Team Bath vs Celtic Dragons
Match 4: Surrey Storm vs Saracens Mavericks
Match 5: Winner 1 vs Winner 2 | Winner advances to semi-final 2
Match 6: Winner 3 vs Winner 4 | Winner advances to semi-final 1

Match 7: Loser 1 vs. Loser 2
Match 8: Loser 3 vs. Loser 4

Match 9: Loser 5 vs. Winner 7 | Winner advances to semi-final 1
Match 10: Loser 6 vs. Winner 8 | Winner advances to semi-final 2