DRAW MADE FOR BRITISH FAST5 ALL-STARS CHAMPIONSHIP
---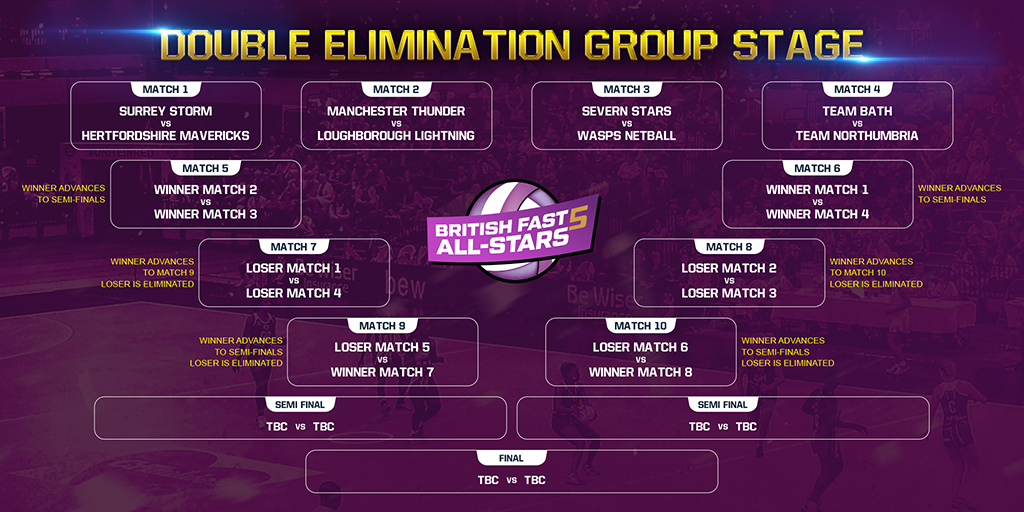 Some of netball's fiercest rivalries are set to be revived this weekend after the draw for the British Fast5 All-Stars Championship threw up some exciting fixtures for the opening round of group games.
The tournament will open with Surrey Storm taking on Hertfordshire Mavericks, a fixture which regularly attracts bumper crowds during the Netball Superleague season. That match will be followed by Manchester Thunders vs. Loughborough Lightning as two of netball's longest-standing rivals are paired together.
Severn Stars take on Netball Superleague champions Wasps in the third match of the double elimination group stage, pitting England team-mates Eleanor Cardwell and Jodie Gibson (Stars) and George Fisher, Natalie Haythornthwaite and Rachel Dunn (Wasps) against each other before Team Bath face Team Northumbria at The O2.
The first round is a double elimination group stage comprising a total of ten matches, with the subsequent six fixtures determined by the outcome of the first four. Two straight wins will qualify a team for the semi-finals while two straight defeats will spell elimination. The final set of matches in the group will feature teams with one win and one defeat competing to stay in the competition.
"It will be a massive game," said Surry Storm's Mikki Austin. "We play Mavericks at the Copper Box and it is always a cracker. That London rivalry will come to fruition at The O2, which will be amazing."
Mavericks star Camilla Buchanan agreed: "We have had a few weeks training and it is fast, it is furious and it is going to be quick. We have 12 minutes to figure it out and I am really looking forward to coming up against our London rivals at The O2."
The British Fast5 All-Stars Championship will be broadcast live on Sky Sports and carries a ground-breaking £100,000 prize fund. Eight five-player sides will compete in a double elimination group stage for a spot in the semi-finals and the eventual winners will take home £25,000.
Introducing exciting new innovations such as a double-point Power Play, 5-point line and 12-minute matches, the British Fast5 All-Stars brings netball back to The O2 and allows teams to include two global All-Star players in their squad.
Loughborough Lightning's Nat Panagarry commented: "Anybody can win, that's what is really exciting about this tournament. There is a lot of history between ourselves and Manchester Thunder so I am quite excited about the fixture already.
"There has been such a big rivalry between the two clubs for so long, and last season we came second and they came third in the Superleague, so it will be a really exciting fixture."
Wasps Netball All-Star Georgie Fisher said: "The Fast5 format is really, really exciting. You have two minutes of powerplay and in that time you could score no points on you could score as many as 80 points. The five pointers are really exciting and will mix the game up, because you could be losing but in the last minute whack out two five pointers to win the game."
Tickets for the British Fast5 All-Stars Championship are available now from www.theo2.co.uk and start from just £20 with group tickets available priced from £60 for four adults. VIP Courtside tickets are available for £150 from www.fast5allstars.com.