Francis Returns To Team Bath For Fast5 All-Stars
---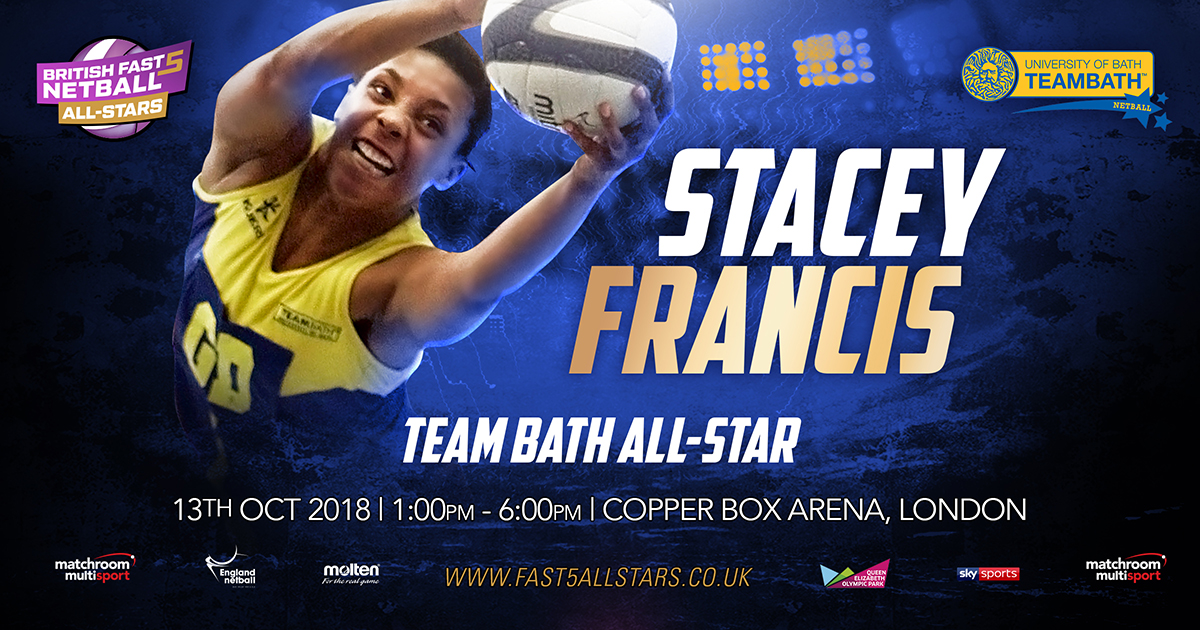 Stacey Francis, one of the most popular and successful players in Team Bath Netball's history, will be putting on the Blue & Gold dress once again after being named as a Worldwide All-Star pick for next month's British Fast5 Netball All-Stars Championship.
The world-class defender, who has just completed her second Australian Suncorp Super Netball season with Perth-based West Coast Fever, will line up for her former franchise in the fast-paced competition, which is returning for a second year.
The 2018 edition is being staged at the CopperBox Arena in London from 1-6pm on Saturday, October 13, and Team Bath will be hoping Francis can help them go one step better than last year when they were edged out in the final by Loughborough Lightning.
Francis said: "Playing for Team Bath is like coming home for me. To have the opportunity to rejoin the Team Bath Netball environment and put on the blue and gold dress again, even if only for a day, was one I couldn't have missed! I'm looking forward to playing under some of the best coaches I've ever worked with again and alongside some of my greatest friends."
Francis, who has re-signed for a further two years with West Coast Fever, played a key role in all five of Team Bath's Superleague-winning squads having initially joined the franchise as a 16-year-old in 2005. She was named as Superleague Player of the Year in both 2011 and 2013.
On the international stage, she helped England win bronze medals at the Delhi 2010 Commonwealth Games and both the 2011 and 2015 Netball World Cup competitions.
Her contribution to the netball programme and Team Bath's high-performance sporting environment was recognised last year when Francis was inducted into the University of Bath Hall of Fame for Sport.
Jess Thirlby, Team Bath Netball Head Coach, said: "Having the opportunity to welcome Stacey back to the Blue & Gold and work with her again is fantastic and we are really looking forward to it. Stacey is one of our longest serving players and returns to us as a member of our Fast 5 team having just played in the Suncorp Final, the finest league in the World and we know she will have a great impact on the team as we prepare to go one step further this year.
"Stacey is a dynamic defender with an outstanding work rate and work ethic and is a tough opponent for any attacker to come up against.
"She is not only one of Team Bath's most experienced players but has proven herself on the International stage and we are proud to have her back".
The 2018 British Fast5 Netball All-Stars Championship will see Team Bath go up against fellow Superleague franchises Lightning, benecosMavericks, Wasps, Manchester Thunder, Surrey Storm, Severn Stars and UWS Sirens for the title.
Matches are just 12 minutes long and a five-point line rewards those willing to brave a shot from distance, while the Golden Buzzer offers teams the chance to double their points during a two-minute Power Play.
Tickets are available now – visit www.fast5allstars.com/ to purchase or for more information.
Team Bath Netball are sponsored by Sitec and supported by partners Mogers Drewett, Soldi and Netball South West. Centurion Chartered Financial Planners are supporting the team's performance analysis and people development capabilities, Viper 10 are their Sportswear Supplier and Skins provide the team with compression wear.