LAYTON AMONG FIRST ALL-STARS CONFIRMED FOR FAST5 ALL-STARS
---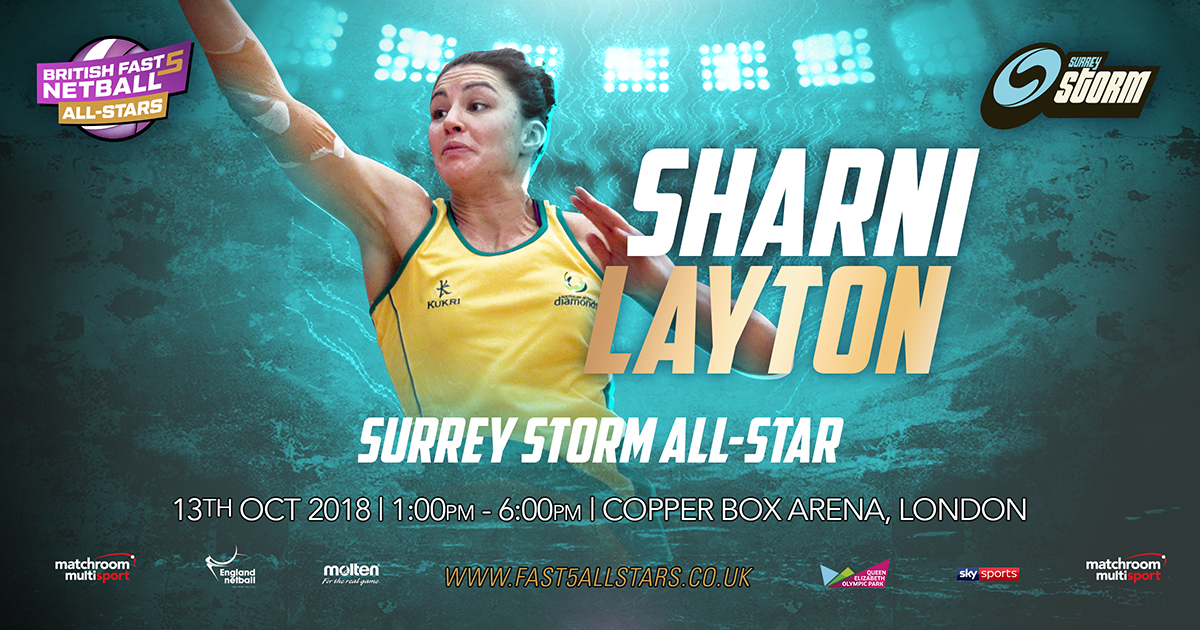 Surrey Storm have named Australian Sharni Layton as their first All-Star selection for the British Fast5 Netball All-Stars Championship at The Copper Box Arena on Saturday, October 13.
The news comes after Team Bath announced that Stacey Francis will once again wear their blue and gold dress as she returns to her former team for the Fast5 All-Stars.
Each team can name up to two All-Star picks in their squad of 10 for the British Fast5 All-Stars Championship and more All-Stars are expected to be named shortly.
Layton, a two-time World Champion with Australia Diamonds, joins Sigi Burger, Katy Holland, Shadine Van Der Merwe in the Storm line-up for the Fast5 All-Stars with more Storm signings still to be announced.
Storm's Director of Netball Mikki Austin, who will also represent Storm at the competition, said: "We are absolutely honoured to have an Aussie Diamond playing in the duck egg blue at the Fast5 competition.
"She is one of the most formidable defenders in world netball and someone the majority of netballers, including myself, have idolised.
"I know our Storm fans will show Sharni as much Storm love as possible for the time she is with us and we cannot wait to get started in our preparation and be ready to compete for that top prize at the British Fast5 Netball All-Stars Championship."
Francis, who has re-signed for a further two years with West Coast Fever, played a key role in all five of Team Bath's Superleague-winning squads having initially joined the franchise as a 16-year-old in 2005. She was named as Superleague Player of the Year in both 2011 and 2013.
"Playing for Team Bath is like coming home for me," said Francis. "To have the opportunity to re-join the Team Bath Netball environment and put on the blue and gold dress again, even if only for a day, was one I couldn't have missed! I'm looking forward to playing under some of the best coaches I've ever worked with again and alongside some of my greatest friends."
Featuring 12-minute matches, an all-star 5-point line and a Golden Buzzer Power Play, the British Fast5 Netball All-Stars Championship is an all-action afternoon of non-stop, pulsating netball as the top eight teams from the 2018 Netball Superleague battle it out to be crowned 2018 All-Star Champions.
Tickets for the 2018 British Fast5 Netball All-Stars Championship will be available via www.fast5allstars.co.uk with tickets priced at £20, £30 and £40 with courtside hospitality tickets available at £99. Under 18s receive 50% off tickets, excluding courtside hospitality. Family and group discounts will be available.
The 2018 British Fast5 Netball All-Stars Championship will take place 1-6pm on Saturday, October 13 at Copper Box Arena, London.