iPro Sport announced as Official Hydration Partner for British Fast5 Netball All-Stars Championship
---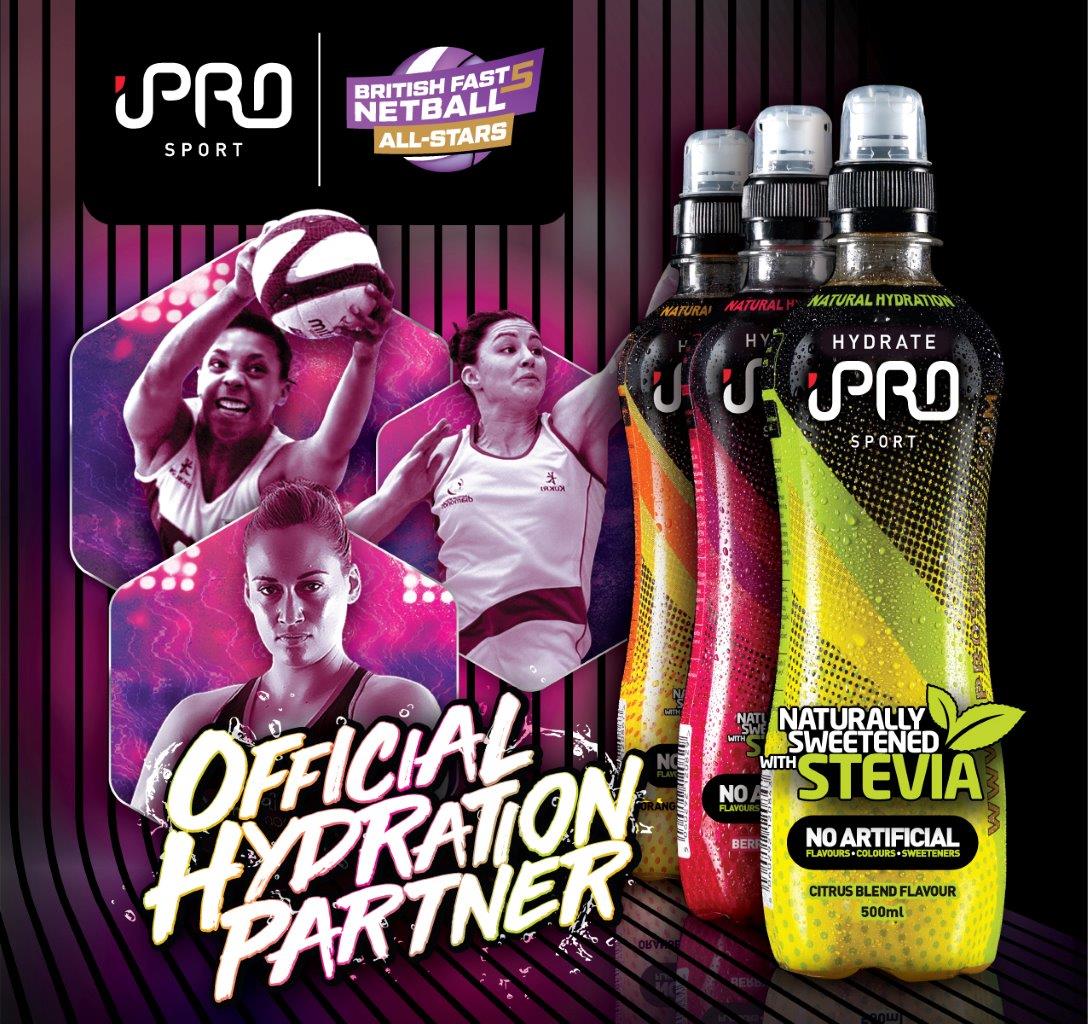 Matchroom Sport are delighted announce that iPro Sport have joined the forthcoming British Fast5 Netball All-Stars Championship as Official Hydration Partner and will deliver great hydration and aid recovery of the competing athletes. The Fast5 Netball All-Stars is taking place at London's Copper Box Arena, inside the Olympic Park on Saturday October 13.
iPro Sport is fast becoming the leading supplier of healthy isotonic drinks to the world of sport from grass-root clubs to professional athletes and they are extremely proud of their on-going partnership with England Netball and the Vitality Netball Superleague.
In addition to their connections with netball, iPro Sport is the official hydration partner to football teams across the EFL Championship as well as hydrating Premiership Rugby Clubs also. Matchroom have previously collaborated with hydration expert's iPro Sport when they secured title sponsorship rights of the Matchroom-promoted World Cup of Gymnastics in 2017.
This is the second year running of the Fast5 All-Stars, which is seen, by a large global audience as well as Sky Sports viewers in the UK, where last year it garnered the highest-ever rating for netball programming on that channel.
Sophie Christy, Commercial Director of iPro Sport, said: "As a continued supporter of netball worldwide, we have built a close affinity with the sport over the past few years. Following the incredible gold medal success from the England Roses at this years' Commonwealth Games, the profile and exposure of netball in the country is unquestionably on the rise. The 2018 British Fast5 All Stars Championship is the perfect platform for us to further support the sport and the competing athletes with healthy and functional hydration to aid their optimum performance. We wish all of the teams the very best of luck!"
Barry Hearn, Chairman of Matchroom Sport, said: "It is great to be working iPro Sport again and bringing such a quality product on board can only enhance the event. Netball has got a great future both as a spectator sport as well a fitness activity and we're delighted to have such an impressive brand as iPro Sport with us for the Fast5s."
The British Fast5 Netball All-Stars Championship will take place on Saturday, October 13 at The Copper Box Arena, London will be broadcast live throughout on Sky Sports as well as dozens of nations around the globe. The event starts at 1.00pm and concludes at 6.00pm. Limited tickets are available at www.fast5allstars.com